Facebook has been in the news lately, but not for great reasons. The Cambridge Analytica data scare. The election ad tampering by Russians. The intense scrutiny of Mark Zuckerberg. It seems that Facebook has been battling obstacle after obstacle while losing consumers' trust in the process. This has many marketers wondering,
"Should you even still bother marketing on Facebook in light of recent events?"
The short answer: yes.
When it comes to social media sites, Facebook still dominates. First, it leads in monthly active users, so your customers are likely hanging out on the site. The platform has over 2 billion monthly active users (yes, that's billion with a B). That number towers over YouTube in second place by 500+ million people.
Most importantly, though, its marketing ROI is impressive. It has continuously scored the top spot for mobile marketing ROI, and it was rated as the "most important social media platforms for marketers worldwide." The margin between LinkedIn in second place and Facebook wasn't even close, with LinkedIn approximately 55% behind Facebook.
Facebook influences consumer purchasing behavior. Studies show that marketing on the social media site affects a buyer's awareness (55%), consideration (71%) and post-purchase (66%) decisions when evaluating and discovering a product or service.
But marketing on Facebook can be tricky. The social media site has changed dramatically since its inception in 2004. Thus, it is essential for marketers to understand Facebook's capabilities, so they can leverage the site to generate sales for their businesses. In this post, we're going to share six different ways you can use the platform to grow your business.
1. Optimize Your Facebook Company Page
If you don't have your Facebook company page already set up, you need to make this your first priority. Your company page will be the centralized location where you will share posts, interact with fans and even run ads. It is important to know that your company fan page will be different than your personal profile.
Setting up your Company Page
To set up your company page, begin here and select "Business."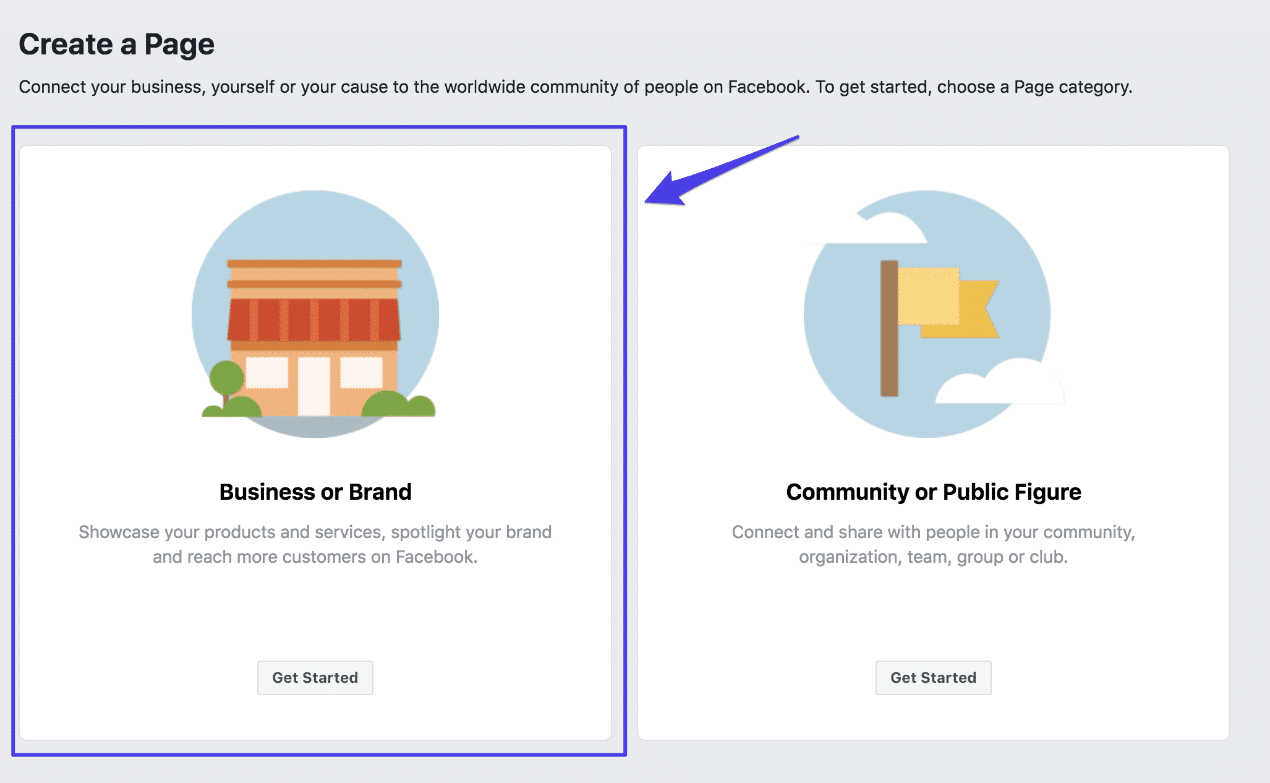 Next, Facebook will ask you a series of questions about the geographical area that your business is headquartered in, your industry category and more. This information will be necessary because it will show up under your "About" section on your Facebook page.
This will likely be some of the first information that your customers will see, so you want to make sure that it is continuously accurate and up-to-date.
Add High-Quality Images
There are two key images you need to add before you start promoting your page. They are your profile picture and your cover photo. These images will constantly be shown when someone is browsing your page, searching for your page or even hovers over your page in Facebook's news feed. Thus, you need to make sure the images are high-quality and fit well in their frames.
Your profile picture will likely be your business' logo, while your cover photo can display another related look at your business, including a collage of your products, your customers or more.
Optimizing Your Page
Once your page is launched, and the necessary information has been added, there are a variety of tactics you can deploy to optimize your page and get it in front of as many eyes as possible. Some suggestions are:
To add this feature to your page, click the "Add a Button" option below your cover photo and select which button you'd like to see.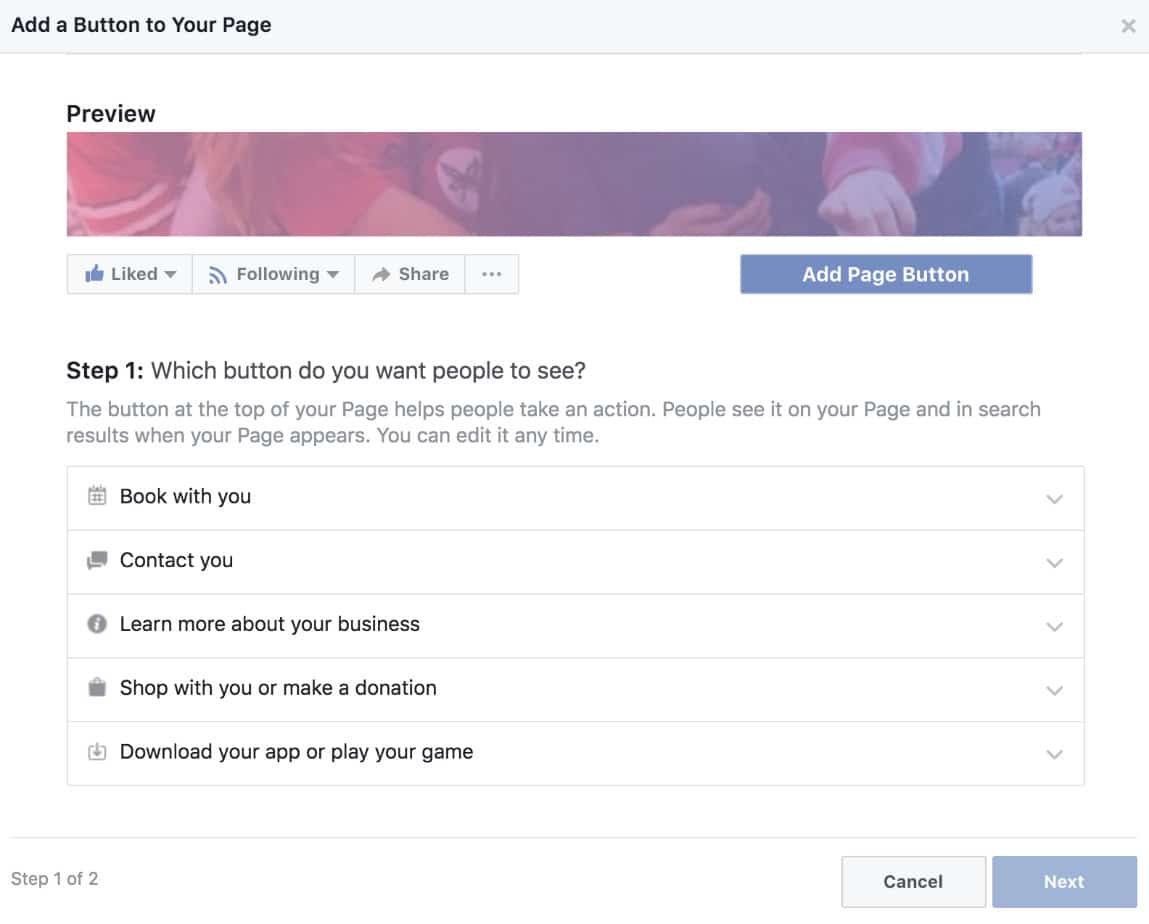 2. Regularly Post Original Content
Now that your page is optimized, you can begin posting content to share with your audience. But what should you share? Your posts should be related to your business, but shouldn't always directly promote your product or service. Popular types of posts include:
A high-quality video showcasing your product
An article related to a topic your customers would find value
A contest to engage your customers and fans
After Facebook's algorithm decreased the number of organic posts it shows for businesses, it's more important than ever to make your posts as engaging as possible. The way the algorithm decides what posts show up in a person's feed is through assessing inventory and signals, making a prediction and then assigning a relevance score.
The Best Type of Content for Facebook
The million dollar question everyone asks is how can you make your posts more engaging?
A rule of thumb: when in doubt, be visual. Studies show that visual content – graphics, images, and videos – get 2.3 times more engagement than text-only posts.
To take things one step further, video outperforms images and text-only posts when it comes to engagement. Studies have found that "46% of viewers say they've made a purchase as a result of watching a branded video on social media."
For instance, if you look at the most viral Facebook posts from 2017, you'll notice something unique: almost all of them were in the form of video. There was only one that made top 15 that was an article. Users are engaging with videos uploaded directly to Facebook, and that is one ingredient in creating a highly shareable post.
If you have a lean marketing department (or even if it's only you), video content can be sometimes intimidating. But don't fret. There are plenty of tools to come to your help. Three great ones to check out are:
3. Tag Your Products in Your Photo Content
Facebook now allows businesses the capability to add a shopping feature to their posts. This feature enables browsing customers to gather product information and even purchase the product after clicking on an image that has appeared in their feed.
You can tag your products much like you would tag a person on the platform. Look for the small shopping bag icon. Next, you'll be able to tag your products by typing in their product names and adding a link to the product page from your website.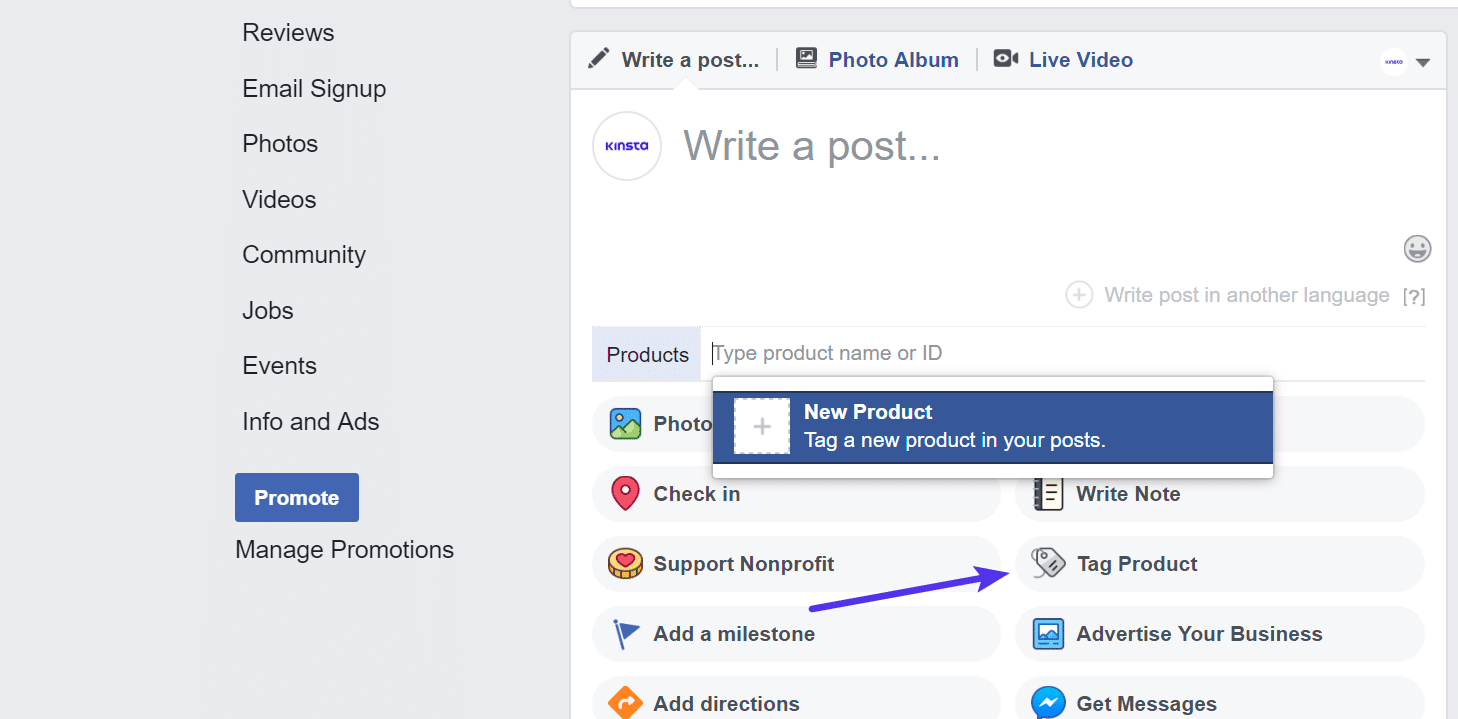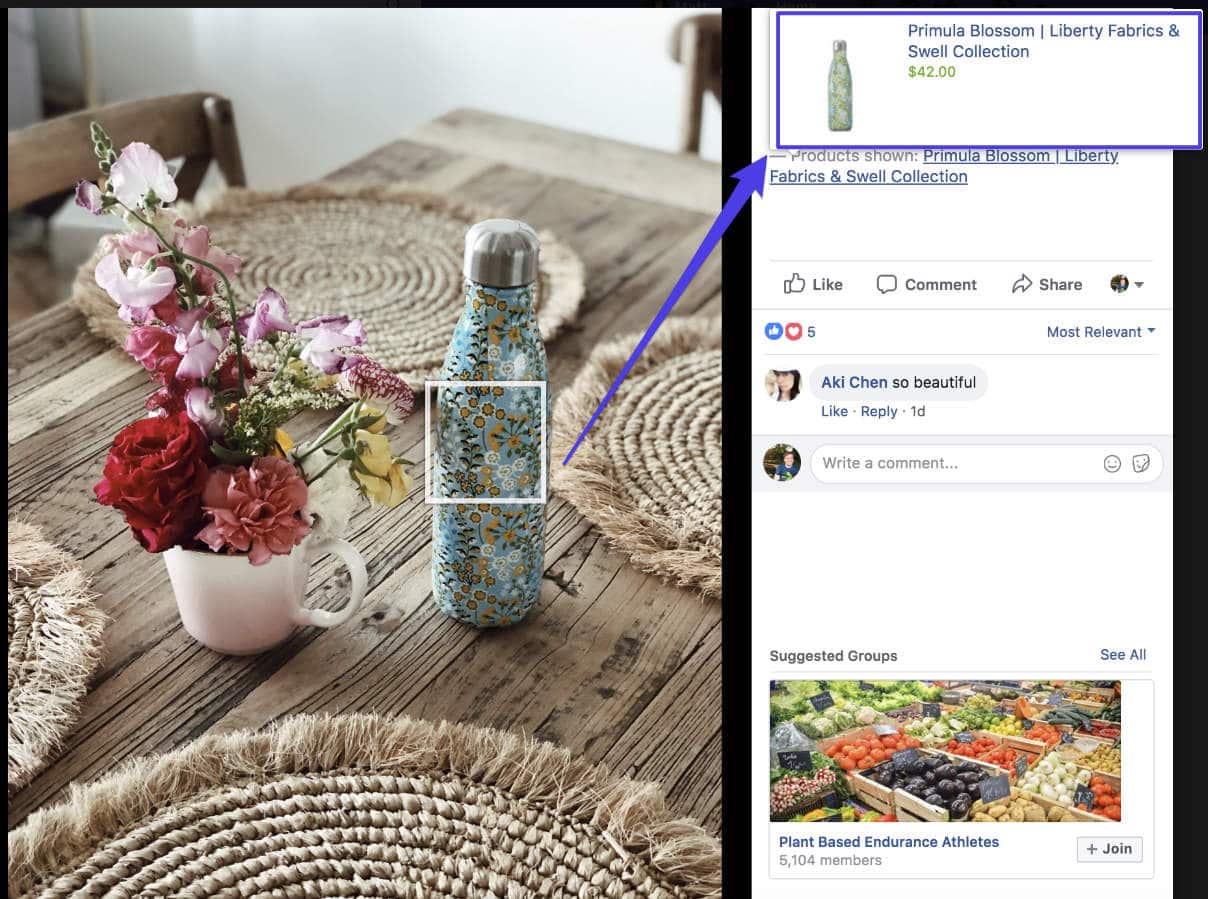 This is a great tool to drive purchases because it serves as a funnel that moves the customer toward the purchasing page. This can be especially valuable to enable more purchases, especially with those who are just casually browsing on your page.
4. Enable, Encourage and Engage With Customer Reviews
Your customers are the lifeblood of your business, and they often have something to say. Whether it is positive or negative, it still gives you an opportunity to make them fervent ambassadors for your brand. Thus, it is essential to enable the review option on your Facebook page.
To enable your reviews tab, click "Settings" followed by "Edit Page."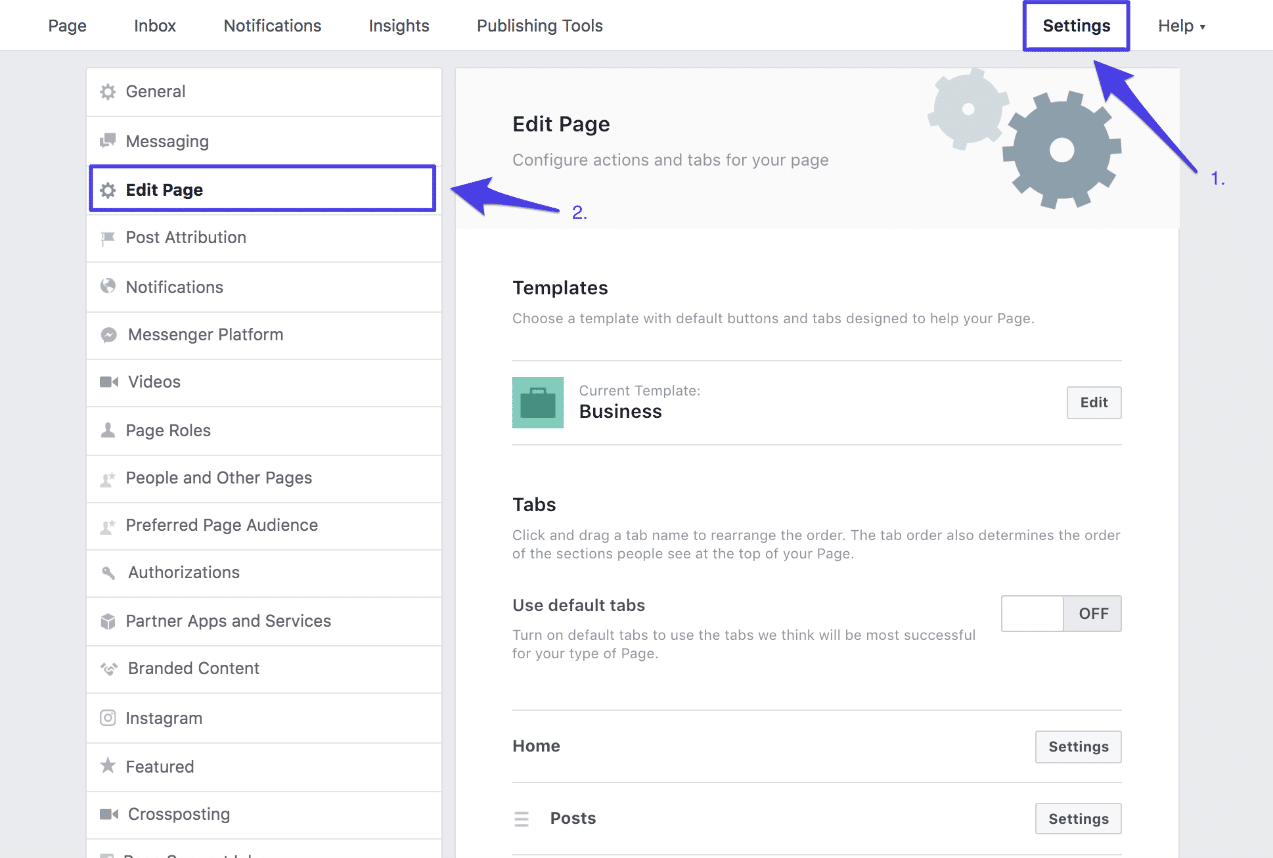 Then, scroll down and select "Add a tab."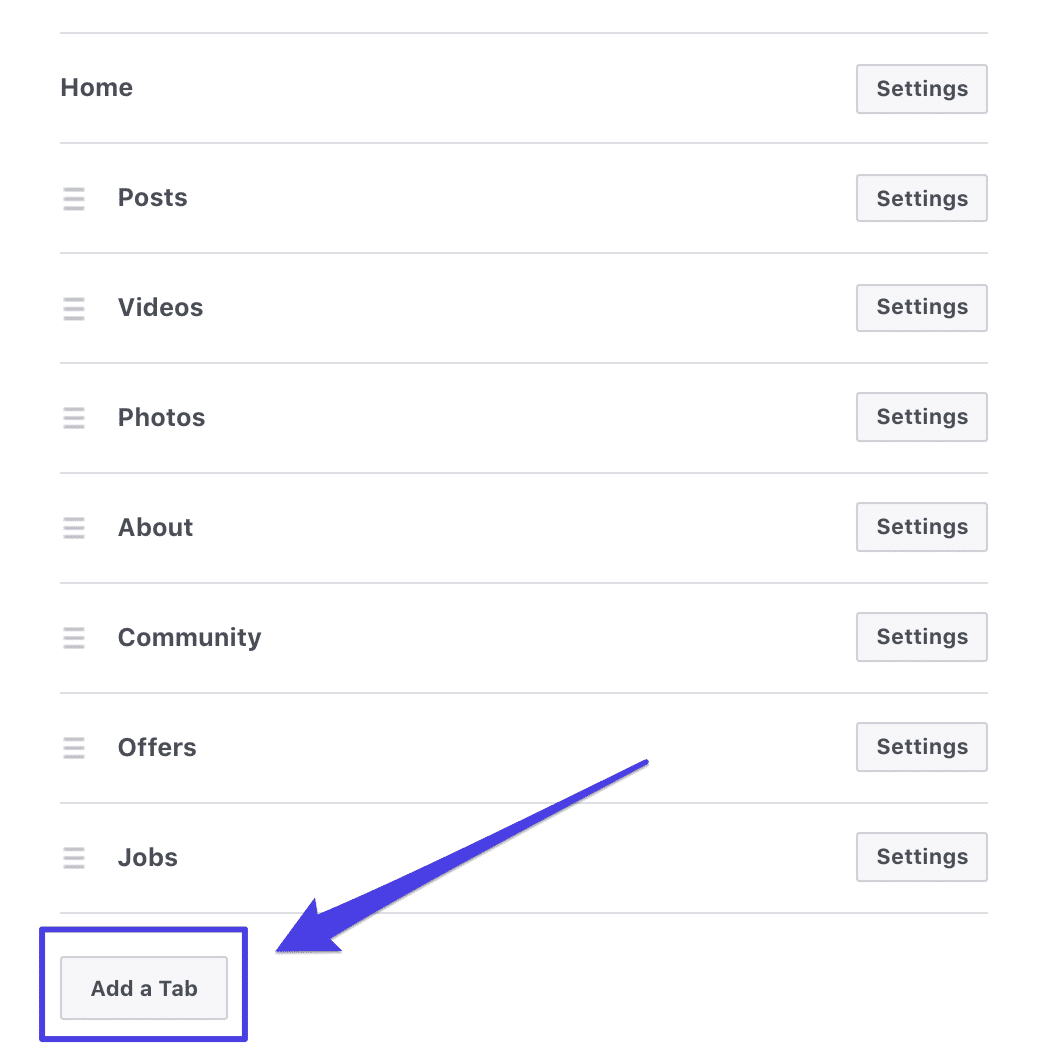 Finally, click "Reviews."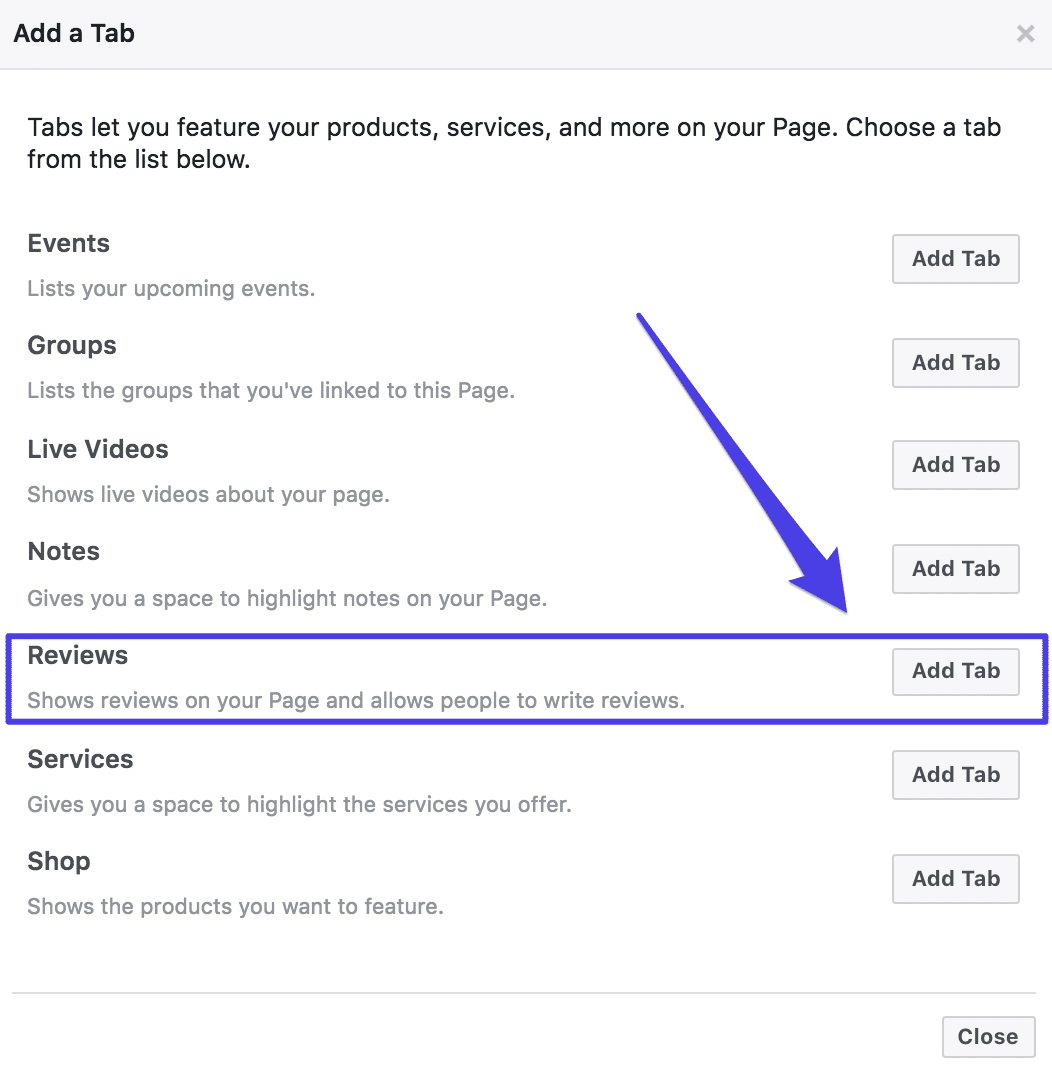 Reviews can provide an outlet for your customers to turn into your biggest salespeople. Make sure you enable the feature, so positive (and maybe a few negative) experiences can be shared, so you can connect with your customers and amplify them. Don't be afraid to ask your customers to leave you feedback.
5. Run A Facebook Ad Campaign
It's time to kick your strategy into offensive mode and look at how you can run marketing campaigns through Facebook's Ad Manager. The very first thing you should do is get the Facebook tracking pixel on your site. This way you can start building an audience of people who have visited your website who you can retarget later.
Facebook ads can be an impactful and cost-efficient way to acquire new customers.
But let us be clear: Facebook ad campaigns are much different than merely boosting a post. Boosting a post is simply giving a well-performing post a bit of a bump, so it appears in more people's feeds.
Facebook ad campaigns, however, are much more intricate and target specific people. There are many different types of Facebook ads:
Domain Ads: These ads click straight through to the business' website.
Carousel Ads: These ads are great if you have multiple products to showcase or want to share a narrative that involves a series of pictures. Users can scroll through them since the ad will appear natively in their feed.
Offer Ads: These ads allow you to include an in-store or online coupon for customers to redeem.
Video Ads: These types of ads can catch the attention of someone who is just scrolling right past them. Most people don't view videos on Facebook with their volume turned up, so make sure you include subtitles for a more profound effect.
Lead Ads: These are great to capture quick lead information like names and emails.
Canvas: This type of ad provides stunning video and opens up to spread across the entire screen after the user clicks on it.
Sponsored Mention: This is an excellent type of ad that will appear promoted in users' news feeds.
Dynamic Ads: These ads go one step further than the carousel ads and are linked to your products, meaning if they go out of stock, they will no longer show up as available.
Ads can be a very valuable marketing engine for you, but you need to continuously monitor and optimize them to achieve success. When setting up your ads, make sure you:
Alternate your ad copy and design. You can have more than one ad in each ad group, so perform A/B testing and work with multiple sets.
Leverage lookalike audiences. If you import a .csv of emails of your customers, Facebook will then be able to target similar potential customers who might be interested in your product or service.
To run an ad campaign, begin in Facebook's Ad Manager. After you're logged in, you can select your company page and then input your header, body, graphics, and website.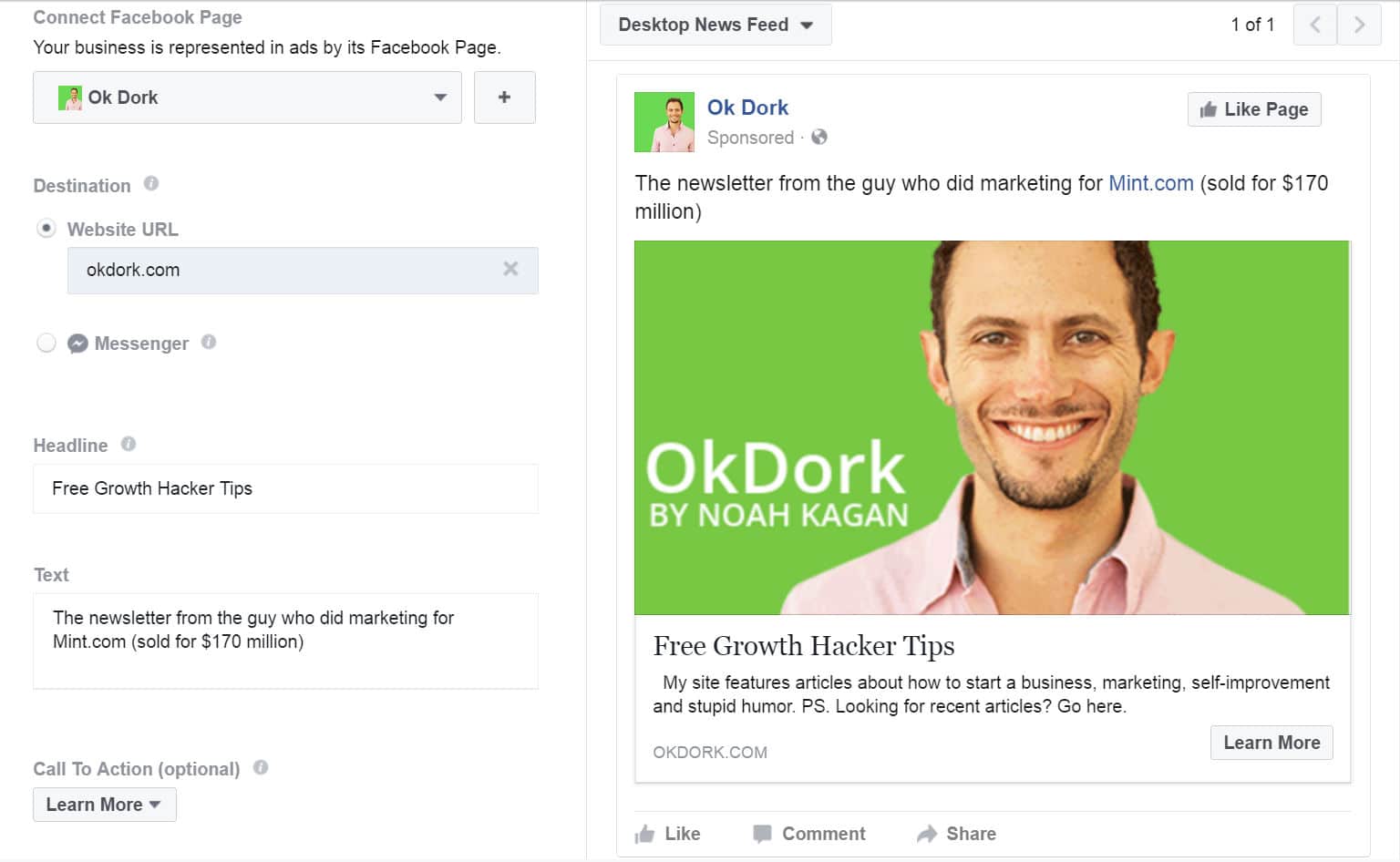 Facebook ads are a great way to source new customers and continue marketing to engaged customers. With the right ad copy and design, you can attract and allure new customers to interact with your brand.
6. Leverage Your Facebook Page Insights
After implementing all of these tactics across your site, you'll need a way to assess what is working and what might not be worth it for your business. Maybe you'll need to change your posting schedule, or maybe you need to run more targeted ads.
You can find this information in the Insights tab on your business' fan page. This tool can be incredibly valuable for you to make educated decisions on where to allocate your time and money for upcoming campaigns.
You can access this feature by clicking the "Insights" tab on the toolbar on your business' fan page.

The dashboard opens with a "Page Summary." This provides users with a quick, digestible snapshot of their page's health and the campaigns or content they have been posting.
From there, users can select a variety of options from the menu on the left, including promotions, followers, likes, reach, page views, page previews, actions on a page, posts, branded content, events, videos, stories, people, and messages.
The "Actions on a Page" and "Posts" view can be helpful to assess what types and subjects of posts perform well. This can help you centralize your effort using that new data for future campaigns.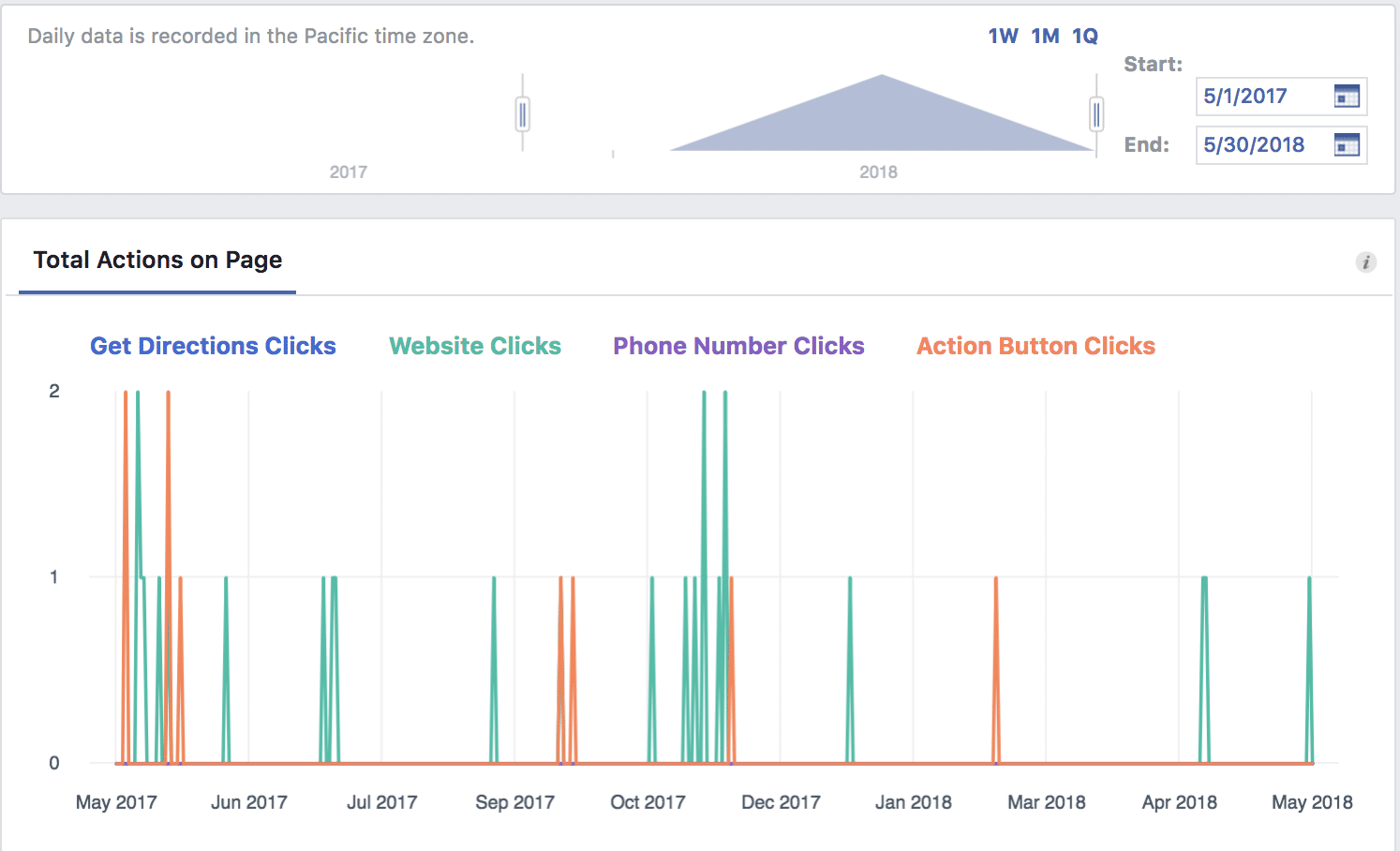 The "Likes" page is a great place to understand how many fans you've acquired. The graphs provide a historical look over the years to show the progress made.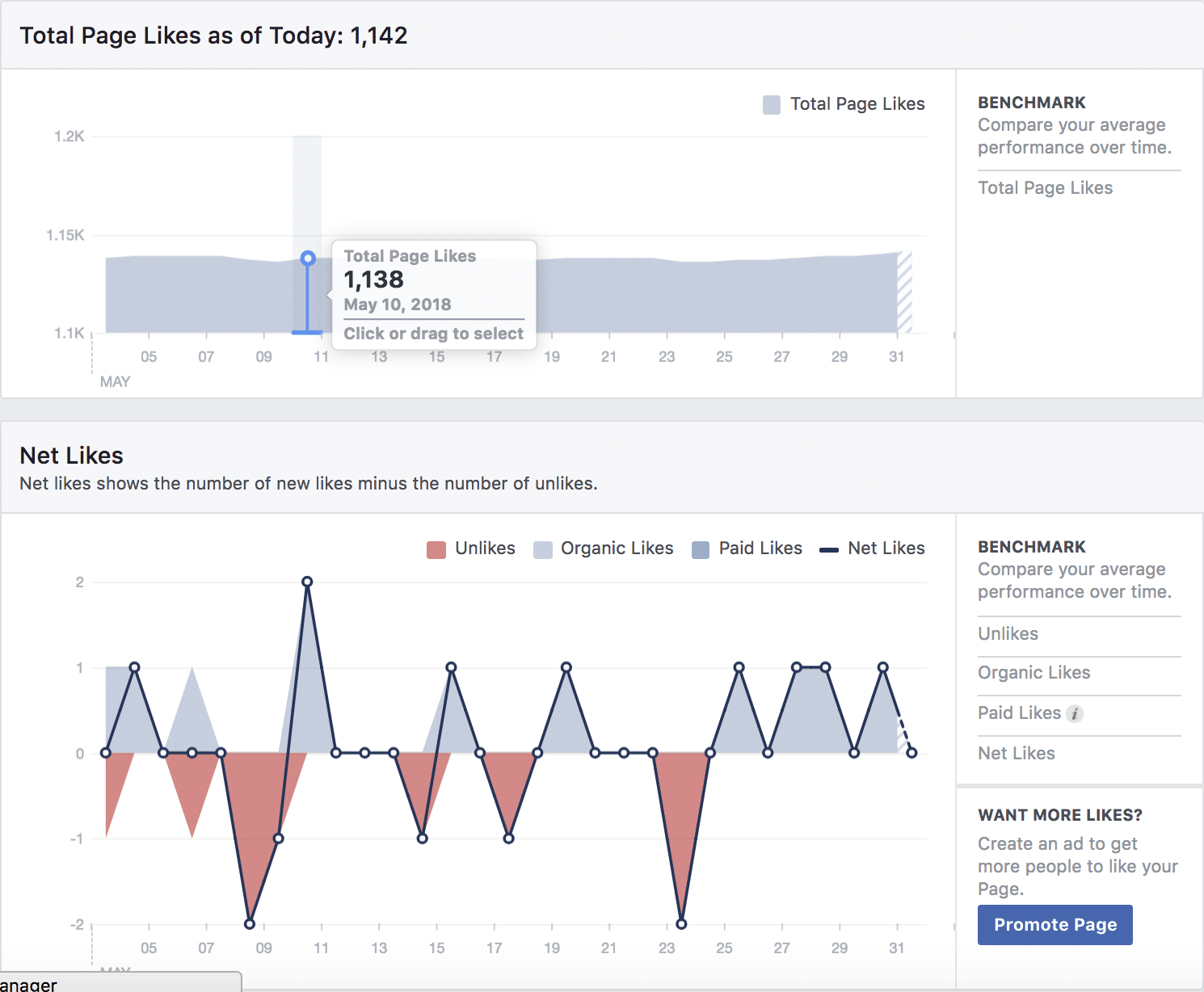 All of these tools can be incredibly useful in assessing, auditing and designing your marketing campaigns and editorial calendar for Facebook.
Summary
There's no denying it: you have to market on Facebook. Despite Facebook's recent blunders, the social media giant is still here to stay. There are billions of people on the platform. Disregarding them entirely would be a mistake for your digital marketing efforts.
To engage this population, start by setting up your Company Page on Facebook. This will serve as your "home base" that hosts a variety of content and call-to-actions for your customers. Next, share updates on your page and have a regular posting schedule. This will serve as a great way to engage and grow your following.
If you sell physical products, consider using the "tag product" feature. This will help your customers have a more seamless buying experience on your page. Manage your customer reviews and engage with the customers. Remember, a negative review provides you with an opportunity to make things right. Take advantage of it and transform that angry customer into someone who is delighted by your brand.
Target new customers through a Facebook ad campaign. Review all of your progress in Facebook's Insights. This data will help you make your future marketing decisions and map out what is currently working well and what needs additional tweaking.
We can help you with any of your Facebook marketing needs here at Squeaky Head Marketing. Just reach out for a chat with us – http://www.squeaky-head-marketing.co.uk/contact/